N.B. Vanwege het coronavirus is deze workshop afgelast
In deze workshop neemt Vikki Reynolds ons mee in een alternatieve benadering van het werken met trauma, die de wijsheid van 'slachtoffers van geweld, foltering en onderdrukking' honoreert en focust op 'daden van verzet' en 'antwoorden op trauma'. Ze beklemtoont het belang van de creatie van identiteit op basis van kennis, autonomie en kracht, als alternatief voor die van identiteit als 'slachtoffer' of 'overlever'. Fundamenteel in haar werk is het creëren van veiligheid. Vikki ontwikkelde een alternatieve verstaanswijze van trauma, en een dekoloniserende en op rechtvaardigheid gerichte positionering van de therapeut of hulpverlener. Ze zoekt alternatieven voor de 'neutrale' en medische woorden waarmee over trauma en traumatische ervaringen wordt gesproken. Ze hecht zeer veel belang aan, en benoemt expliciet, de contexten van sociale onrechtvaardigheid die bijdragen aan menselijk lijden.
Datum: dinsdag 5 mei 2020
Locatie: Euthopia, Zandberglaan 54/bis, Breda, Nederland
Duur: 9.30 tot 16.30 uur + borrel
Prijs: 125,00 euro (early bird/vroegboekkorting tot 31 maart 2020, vanaf 1 april 135,00 euro)
Inschrijven kan door een mailtje te sturen naar info@ndc2.eu en het verschuldigde bedrag over te schrijven op rekeningnummer BE87 8914 3416 1094 (met vermelding WS Vikki Reynolds + naam) Accreditering wordt aangevraagd bij NVRG en SKJ.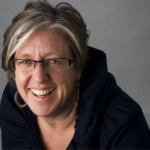 Vikki Reynolds is a Canadian clinical counsellor and instructor. In her work she addresses trauma, survivors of torture, homelessness, violence, substance abuse and diversity. Her practice is informed by narrative and collaborative ideas and by an anti-oppression and de-colonizing framework in which ethics are always at the forefront. More info: https://vikkireynolds.ca/